Love those extended weekends!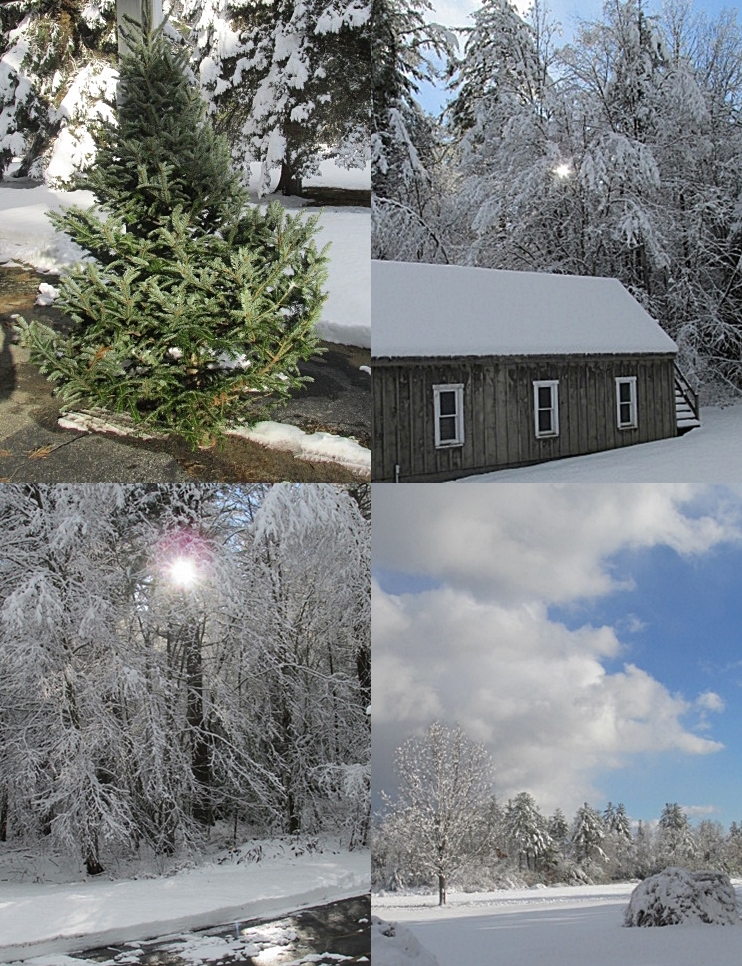 Thanksgiving Eve the northeast was hit by a snow storm.  This was some of the wettest and heaviest snow I have ever seen.  WE lost a couple of large limbs off of a couple of trees and we also lost power in the middle of preparing dinner.  Fortunately the pumpkin pie I was bringing  to Thanksgiving had been prepared so we did not have to show up empty handed.  We were without power for 24 hours.  The wood stove keep us toasty and warm in spite of the chilly temps.
Since we have been getting a Fraser Fir for our Christmas tree and it is not sold everywhere, we always go out on black Friday to procure it.  The tree farm we went to this year, they had pre sold all of the frasers, which we found a bit disconcerting.  Where were we going to find a fraser?  I remembered a local family owned business that we had gone to one year (past Thanksgiving weekend and they were all out of them.  Fortunately,since it was black Friday,  they still had some VERY nice looking frasers so we breathed a sigh of relief and headed home with our tree.  
On Saturday, we drove out to the Catskill Mountains to visit my 87 year old father.  On our way home on Sunday we swung by my niece's Amy's place, who also lives in the Catskills, for a short visit with her and her family.  Amy has a beauty shop attached to her home so she was nice enough to give me a very fine hair cut.  Like most children, her children are very computer savvy so I left them with one of my business cards so they could go out and visit my website.   Even though Amy swore up and down she is not tech savvy, she managed to get on my blog and leave a comment.
 I was in quit a sewing frenzy to get everything made and into the stores for the holidays.  I did not step inside the sewing room all last week  This morning was the day or reckoning....time to clean up the sewing room.   What use to take me a couple of hours I was able to accomplish much quicker...cannot say enough about the wood laminate floor my husband installed in there last year.  It has paid for itself several times over in the time it has saved me with cleaning up a room that gets a lot of heavy use.