black and white and cat all over
Sunday, we were yet again in the midst of another snow storm here is Massachusetts.  I had taken a look at the wheels on my sewing chair earlier in the day and realized I had a bit of a mess on my hands.  While rolling about I had managed to pick up a rather large amount of debris in the wheels.  I pulled them off and asked my husband Tim if he would be willing to clean them out for me.  He has a very well equipped clock shop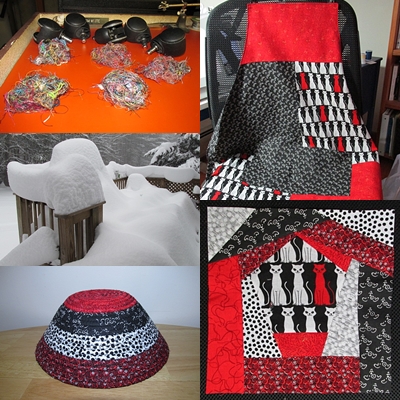 down in our basement with every hand tool imaginable.  But of course, first he had once again clear the driveway so while he was doing that I decided to get out some fabric and cut out a tri-colored apron.
This is not the first time I have played around with this red, white and black cat fabric.  Last year I had made an apron and some sting hot pads (see 3/13/14 blog entry - "Stringing things together"). This time I was using a different black fabric for the reverse side of the apron.   This is a rather fun fabric since it reminds me of small hieroglyphs and when combined with a red fabric and the cat fabric, makes a visually interesting and high contrast apron.  Once I got it cut out, I checked to see how Tim was doing with the wheels and had to take a photo of the amount of debris he removed...HOLY COW!!!  I also took a photo of our back deck buried under 2 -1/2 ft. of snow.  Our grill is under that  large white hump (sigh).
On Monday I assembled the apron.  Since there were plenty of scraps left over from this apron and the previous projects, I could see that some matching hot pads would be in order.  I felt that all the matching scraps I had would make up nicely into a couple of spider web blocks.  This block is not only interesting since the center pentagon is a wonderful showplace for a fun novelty print but it also is a nice place to show off high contrast prints.  It is a take off on the traditional log cabin block that normally has a square in the center with rectangle logs.  With the introduction of a pentagon, one ends up with a lot of very interesting shapes and no two block are ever alike.  
Needless to say, the combination of red, white and black is always of visual interest and I have yet to make a coiled fabric bowl using this combination.  Since I had all these fabric out, I thought it was high time to try my hand at this combination.  I had the least amount of red so that would need to be the base. Since this combination is all about contrast, I decided to make it even bolder by doing a color block design. The black needed to go next followed by the white dot.  To bring the whole thing together I topped it off with a small print fabric that combined all three colors.  This is also the first time I have used this large color block design and I really liked it!  I can see how this design will lend itself to other fabrics I have in my stash.