Recent acquisitions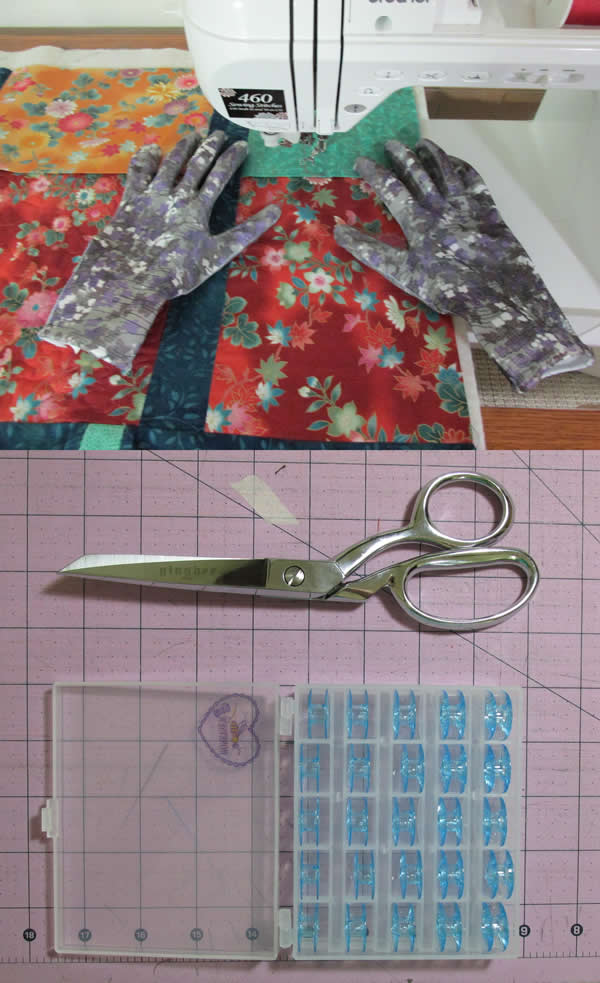 Back when I was free motion quilting a large piece, I goggled it and watched a video.  The person was wearing a pair of white gloves.  It was explained that they had grippers on the palm side of the gloves and would help keep quilter keep the fabric taunt while quilting.  I filed that information away 'til later.
I was in Ocean State jog Lot a couple of weeks ago and found myself in the gardening area when I spotted this pair of $1.99 gloves and they had this nifty coating on the palm and I realized one did not have to buy a pair of white expensive quilting gloves but just a pair of these gardening gloves and look at the sport color!  I put them on when I was quilting the body of very next market bag I was making...AMAZING!  YES, it was so much easier to not only keep the fabric taunt but also to keep the fabric moving under the needle when I was free motion quilting.  YEAH!
There have been a couple of other acquisitions.  I have FINALLY treated myself to a decent pair of dressmaker sheers.  About time...right?  While I was cruising around amazon.com in the sewing section I also found this box of bobbins.  I have been limping along with 7 bobbins for my Pfaff ...what a pain, right.  I really licked this item because the bobbins came in that little case...sweet.  Sometimes it's just those little things that can make you happy, and it has!