"A" is for accepted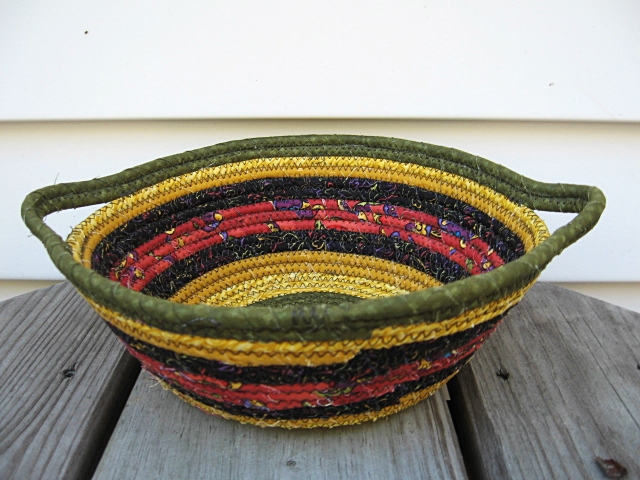 It's always nice to have some good news to share, I was juried into the North Quabbin Garlic and Arts Festival again this year.  The 2017 festival is September 23 and 24.   Since there are more artists applying than there are booth spaces I am always relieved when I get the thumbs up.  I usually only do one show a year and I am glad it is this one.  Not only is it less than 5 miles from my house but it is VERY well attended.  It has become the break even point for my business ever since I started participating as a booth holder 4 years ago.
My approach to the application process was a bit different this year.  I was given some feed back last year from the artist coordinator that the photos I was sending did not reflect the quality of my work so this year, I did not mail prints.  Artists are given the option of emailing  photos, which I took advantage of.  I do indeed struggle getting a good photograph of my work sometimes but I earmarked the photo of this basket as jury worthy due to it's clarity and overall quality. One of the items on the application asks the artist to "describe your creative process".  I will admit I struggled with that also since I am rather versatile and make a lot of different things.  I did my best to not over describe and kept it to one page in previous years.   I know they are going though a lot of applications for the 35 artist booths so I figured they would appreciate brevity.  The bit more feedback I got after last year's application is that I needed more detail since the people on the jury were not artists.  Good to know!  This year I added a section for definitions like what do the terms patchwork, quilting and top stitching mean.  I also added some detail about fabric selection. which I had not done on previously.   Anyone who has ever sewn ANYTHING knows it's all about fabric selection and I actually included that VERY thought in my creative process statement.   So far I have not received any feed back about my application, other than I was accepted.   I hope to check with the artist coordinator at the festival to make sure I provided the jury with what they needed this year.
 I would be remiss if I did not include the link to the festival website and the list of accepted artisans  https://garlicandarts.org/artists/   It is a wonderful website and really gives you a good idea what this festival is all about.  and YES, I have been there the day after when the garbage is sorted and it is true, EVERYTHING is recycled except for 3 bags of trash.   Pretty impressive considering 10,000 plus people attend over the weekend.