Tips for making a snug face mask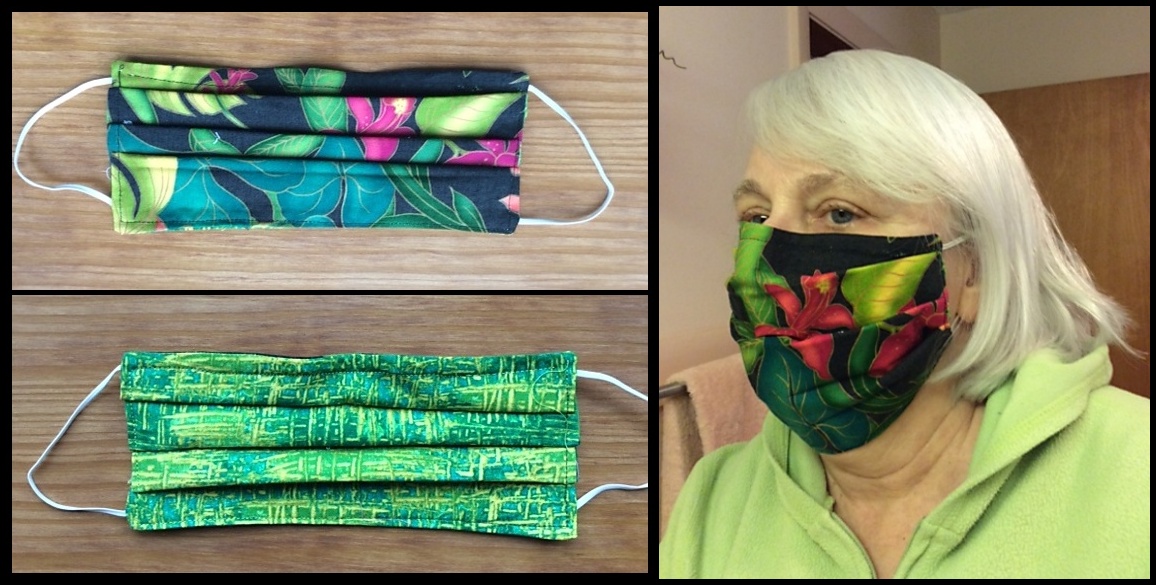 It is difficult to know what to blog about now days.  The CDC yesterday suggested that everyone start wearing face masks so I found a tutorial that showed how to make one. https://www.youtube.com/watch?v=AhGUBjK10DI
On the second try, I used a much shorter piece of elastic (5 1/2" long) and did not sew the pleats in place until I dry fit it to my face using clips.  I wanted a snug fit to my neck and along my ears.  I made the center pleat first and clipped it.  The outer edge now mesured approx. 5.5" at this point.  I then eye balled the top and bottom  pleats, pressed and clipped them in place and at this point the outer edge measured 3.5".  I did another dry fit but it still was not a snug fit to my neck or on my face at the ears.  On the final Adjustment, it was finally snug - final measurement at the edge - 3".  
Right before I started making the mask I remembered I had opened a bag of our local coffee roasters coffee and that Dean's Beans had donated several coffee bag plastic closers to people making masks so I rummaged around in the trash and pulled it off of my bag of Dean's Beans.  Once I had the mask turned right side out, I slipped the coffee bag tie inside the mask, pushed it in place with a pen and then stitched below it to hold it in place.  The nose "piece" can been seen best on the flip (green) side of the mask.  I hope this helps people making thier own PPE get a nice snug fit.  
All in all, I was pleased with the fit and since I am basically the same size as my daughter Meagan, I made her a blue one (to match her eyes) and mailed it to her.  It is what ever person is probably wishing for this Easter!