Kilim Basket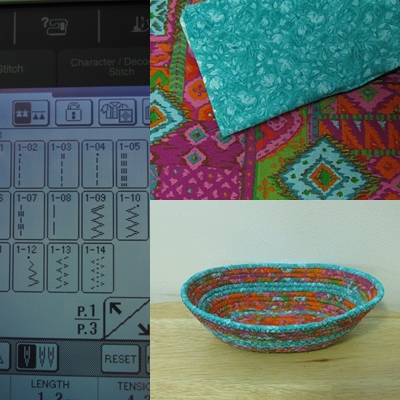 One of the wonderful things about being a fiber artist is the array of  fabrics I get to work with.  Even thought there is 3 feet of snow in my yard, I can get out bright, colorful fabric and if instantly makes me forget the monochromatic landscape outside my door.  As soon as I found this Kilim fabric in my stash and this perfectly coordinating bright turquois, I knew they would be a cure for my winter blues.  
When one is cutting out the strips for fabric bowls, they are cut on the bias so that they have a bit of give to them. It not only makes them MUCH easier to wrap around the rope but it also cuts down on the raveling.   On this particular piece of kilim fabric, it was too narrow of a piece to do that with.   I was not going to be able to cut it on the bias.  As I was wrapping and stitching up the bowl what I discovered it that it was best  to cut the strips narrow...< 1/2".  This made wrapping much easier.  There is something very attractive about small oval shaped bowls and this is what I decided to make with this lively fabric,  I loved not only the look of the fabric and the colors when made into a bowl but I was very pleased with the turquoise fabric and how it also looked.  I didn't want to over do the turquoise so one round of it in the base, a turquoise stripe in the middles and then ending it along the edge seemed to be just the right amount.  
My machine has many different zig-zag stitches.  When I was talking to my friend Margaret the other day she asked me which one I use for making the bowls.  I normally use the plain old zig-zag and I turn up the tension on the machine so I get a nice firm bowl.  She, on the other hand uses a broken zig-zag on her bowls so I thought I would try that out today.  I punched in stitch #1-14 and away I went  .Her bowls are incredible works of art so no reason this shouldn't work for me.  RIGHT???  WRONG!  About half way though making the bowl it was time to take a closer look. YIKES!   ALL kinds of gaps and holes, this broken zig-zag was not working well at all for me and I ended up having to resew that part of the bowl to close up all the gaps.  These colors were just to lovely to simply throw it away and try again. I am not sure why this broken zig-zag did not work for me. I am going to ask Margaret about this.  Perhaps I did not have the width and length of the stitch properly adjusted...who knows but it spite of this, I am very pleased with how all these colors and fabrics worked together so all is well, that ends well!