Headin' for the border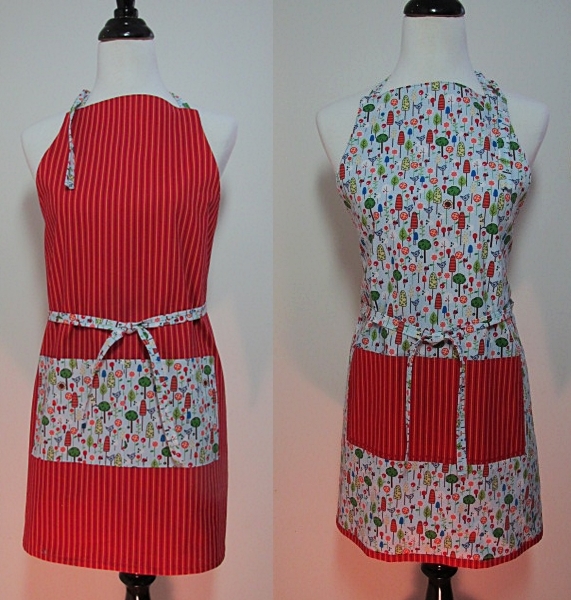 In spite of the thermometer telling us otherwise,  Spring is suppose to arrive at some point so I have been working on my Spring Collection.  The last couple of weeks I have been focusing on aprons and bowl.  The apron pictured here is a bit of a preview.   
Most of the coiled fabric bowls I have made over the past few weeks ended up at the Gould family owned and operated Sugar House in Shelburne Falls which is the same town the Arts Co-op is located in.  They have a gift shop attached to the restaurant and they just opened today for their 6 week season.  I also left some of the Co-op's brochures so HOPEFULLY, even if I don't sell much at the gift shop, some of these maple product enthusiasts will pick up a brochure and stop my the co-op.  
I upgraded my sewing machine in August and it has become painfully (oh my aching back) clear that a sewing table designed for my new electronic machine was in order.  I started looking around and doing some research this past month.  I felt that a Horn sewing cabinet might be just the ticket for me.  Upon inquiry, my facebook friend Holly, who has an exquisite sewing room, informed me she has a Horn cabinet and that she LOVES it.  I had looked at a couple of Horn cabinets out in western Franklin Co. but they did not have the model I wanted on the floor.  The wonderful thing about living in New England is the close proximity of everything since it is a densely populated place in a small geographic area.  Also, since I live in central MA, I am not that far away from sales tax fee NH!   I located a Horn dealership just over the border in Nashua, NH.  Since it was a beautiful, sunny day, my husband and I motored up there and checked out the cabinet I was interested in. One of the things the Horn dealership down here in Franklin Co. told me was that I would have to pay shipping on top the exorbitant price he was quoting me.  I am so glad I went to New Hampshire. Not only am I going to save myself the 6.25% sales tax but also the shipping charges....YEAH!. Plus, the husband got to swing by the NH state liquor store which was just down the road from Nashua Sew and Vac so we both ended up happy. CHEERS!