Another new venture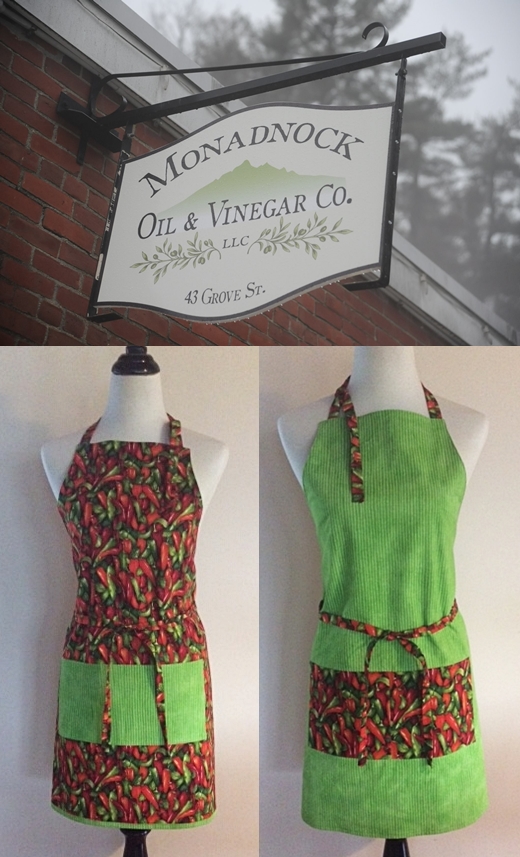 It was a beautiful day for a trip to Peterborough, NH.  I had an appointment with Korey and Annie at Monadnock Oil to show them my aprons and coiled fabrics baskets.  They liked what they saw and so I will now be wholesaling my oval shaped baskets, which they will be using as gift baskets for their products and also my aprons.  I have written in previous blog entries that I am looking to start selling my work wholesale rather than consignment.  Korey is friends with Stephen and Suzanne who own Capizzano Olive Oils and Vinegar in Pawcatuck, CT .  I started wholesaling my aprons, baskets, market bags, coasters and cards to the Capizzano's a few months ago, which I wrote about in a previous blog entry http://www.newenglandfiberarts.com/node/276.  My husband Tim and I had gone up to Peterborough on Patriots Day to purchase some oil and vinegar since Korey's store is many miles closer to us than the Capizzano's store.  Since I knew that Korey is friends with the Capizzano's I mentioned to him that they were selling some of my wears at their store and he asked what they were selling and then expressed an interest in seeing my aprons and baskets.  The apron pictured is one of the six aprons they now have in stock.  
While I was in Peterborough I felt that since I was breaking into this market up in Peterborough it might be nice to have a place that sells other items I make.  I stopped into an antique store that also has a gift shop.  I felt it would be an excellent outlet for my balsam gifts and fabric cards.  Unfortunately the owner was not in but I did strike up a conversation with this lovely woman who was in the store, named Donna.  She asked it I would be doing this local fair and I said no, I am from the North Quabbin area and I usually have a booth at the North Quabbin Garlic and Arts Festival which is the last weekend in September.  She was quite fascinated by the idea of a garlic festival since she has friends who have recently started raising garlic commercially.  I gave her my business card and the name of the festival and assured her that she and her friends would love this festival.  Most people do!  
All in all it was a fun day and I am excited at the prospects of my new business relationship with yet another high quality olive oil and vinegar shop!  As you can see, they are located on 43 Grove Street .