Unexpected pleasures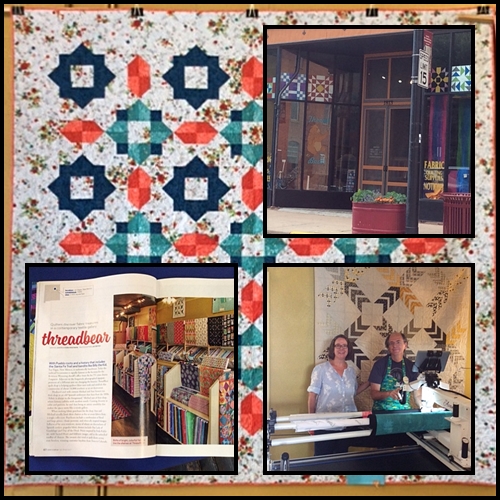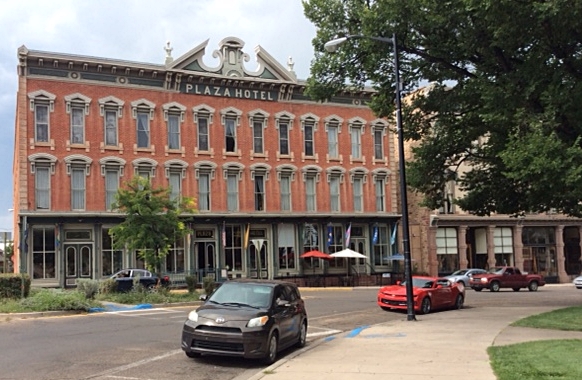 YES....it has been over a month since I have update my blog.  Life has been a bit hectic (understatement).  The first week in September we went on a much needed vacation to Santa Fe, NM.  In 40 years of marriage it is important to rally around what you and your spouse agee on and one of those things is how much we like northern NM.  
Over the years, we have become HUGE fans of the TV series Longmire.  Come to find out, it is filmed in and around Santa Fe and the court house of the fictional town that is it's setting is actually the Plaza Hotel in Las Vegas, New Mexico.  Who knew there was also a Las Vegas IN NM!!!!   It is a very lovely and historical town with many of it's buildings in the National Historical Register.  As I was going into the Plaza Hotel I looked to the left across the street, oh my, a fabric store.   YES!
After watching a very enjoyable film about the Las Vegas area and the restoration of the hotel it was time to visit the quilt shop.  I was admiring the quilt on the wall when I walked in and the gentleman behind the counter informed me that his wife made it and it was featured in this month's (September) Quilter's Magazine.  I told him I was not surprised.  This was not a huge shop, they also sold yarn, had a knitting corner with comfy furniture and a large long arm quilting machine in the back corner.  I  proceeded to look around and generally speaking I usually only like about 10% of the fabric I find in any given fabric store.  I was SHOCKED....whoever had picked out the fabric for this store, their taste in fabric was very similar to mine!
The gentleman introduced me to his wife when she came in and I complimented her on her quilt and taste in fabric.  They had many copiers of the magazine, which had a wonderful article in it about there shop, ThreadBear (what a delightful name) and about them.   It is always nice to talk shop with a fellow quilter.  I did indeed find these wonderful folk art panels which I knew would make two delightful wall hangings, which they did. http://www.newenglandfiberarts.com/products/prod_detail/535  So, a trip to Las Vegas, NM had a unexpected and delightful surprise....a wonderful quilt shop.  If you are ever in the area, I highly recommend a trip to this lovely, historically significant town and it's unexpected pleasures!