Taking Stock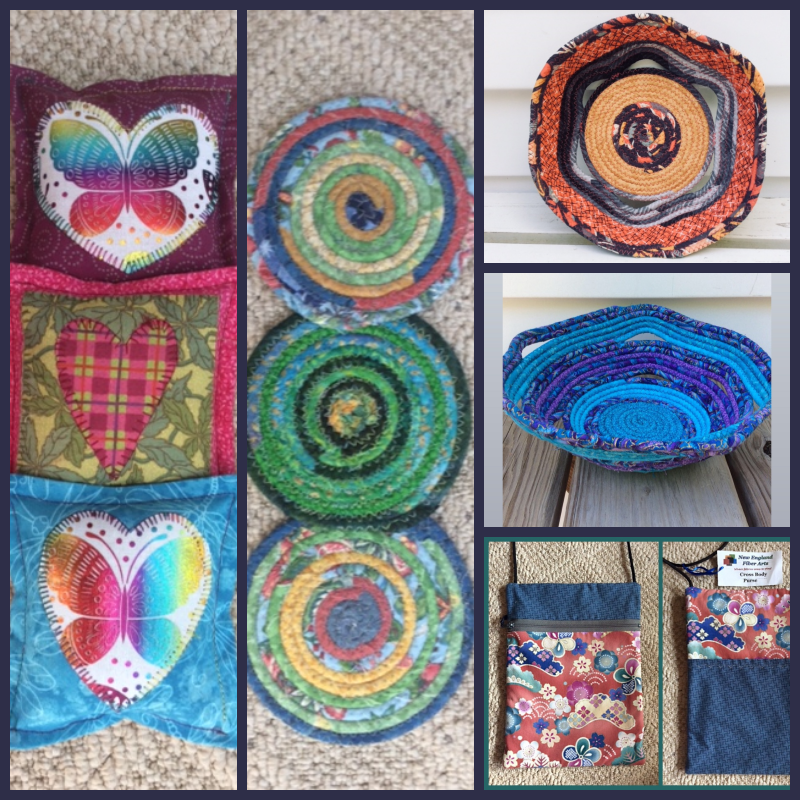 This time of year isn't just for celebrating and taking inventory...it is also the time of year that I "take stock".  How did the year go not only financially but also creatively?  A breathing space, if you will, since I am done sewing for the year.  Also, a time to play.  
On the order of playing, I had found this really fun fabric with rainbow colored butterflies that have a sheen about them.  Earlier in the month I made a couple of small bowls using this fabric....time to have some fun and see what else I can come up with.  On the far left are some heart themed balsam sachets.  So colorful and so much fun.  
The next thing I made just for fun were some scrappy coasters.  Anything goes and the only rule that abides is that the outer edge be all one fabric.  Since these singleton coasters have been a big hit this year, I can see making many more in the future.  I use to be know as Ms. Aprons.  I got a feeling that is going to change to "the coaster lady".
On to taking stock creatively.  Earlier in the year, a friend who is no longer sewing gave me a pattern for these cross body bags.  I felt they would be a big hit due to the size and weight of the bag plus the design; zipper in the front and large pocket in the back.  After making the first one, I was really doing a happy dance and couldn't wait to make more.  Over the summer, I sold several of them at the Shelburne Arts Cooperative so I had made a good guess about how they were going to be welcomed into my line.  I use mine all the time and it is the perfect size for my iPad mini.  
The second new thing I made this year are multi-handled coiled fabric baskets.  The top one in the photo only has opening along the edge of the bottom which makes is very visally appealing.  It took alot of planning to get it to come out looking right with the openings evenly spaced.  The blue one is a much more free design.  It ended up with 6 onenings/handles.  I can see a lot more experimentation going on with the multi-handled baskets in 202.  I will admit I was a bit anxious when I made the first one hoping it would come out well enough designed and made to sell.  To my great relief it did and if sold last week!
I did the Garlic and Arts Festival again this year and I was pleased I had many repeat customers  and with my overall sales.  It takes a hurculean effort to do a 2 day festival and sew enough to fill up a 10'x10' space.  Since there are many wonderful things in store for me personally this year, I am considering taking 2020 off from the festival. The most exciting thing is that our daughter is getting married in July and we will be throwing a big party for the bride and groom the beginning of August in our back yard.   So, we will see what is in store for my little business come next year. All and all, I felt 2019 was a good year financially and creatively.  Onward to a new decade!