In a Bind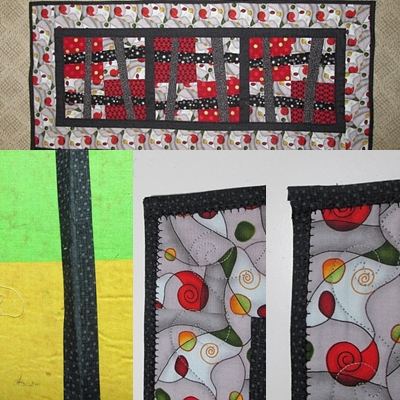 My last blog entry was about making tic-tac-toe blocks.   Since I was on a roll with tic-tac-toe hot pads.  I pulled this spiral fabric out of my stash and incorporated it into a few tic-tac-toe blocks   As I was looking at them together I thought...WOW, theses would made a nice table runner.  I had purchased this tone on tone black dot for another purpose but it came to mind as I was thinking abut what fabric I could use for the sashing. Over the weekend, I manager to finish the quilt top finish and the quilting.  Now it was time to do the binding.  I REALLY wanted to use the same fabric for the binding that I used for the sashing but alas and alack, I did not have enough of the fabric left to do a standard bias binding with mitered corners so, off the the internet to see what I could find.
The first binding tutorial I watched, packaged binding was being used and a mug rug was being bound.  She was going to attach it to the back, miter the corners and then stitch in the ditch to attach it to the front.  Since I have never used this packaged binding, I watched the entire video. One of the suggestions she made was to use a decorative stitch when attaching the binding...I liked that Idea but I knew I did not have enough fabric to do the mitered edges.  How about If I made some narrow binding, folded it down the center and then opened it up and then fold each edge towards the center and make the same type of binding you get in packed binding?  I would slip the binding over the edge with the fold along the edge and bind each side separately, cutting it off at the corner.  This would use a lot less fabric.  I did the long sides first and used a 1 1/2"  strip.  I found a decorative stitch on my machine and since this was my first time doing it, decided to use matching thread rather than a contrasting thread.  I finished the two long sides on Sunday and made the smart decision to finish the short sides on Monday morning
As we all know, bias strips stretch a bit.  This was not a problems as long as I could just cut off the extra at the end which is what I did on the first two long sides.  With the last two sides I was going to have to make a finished corner so I folded over the end of the bias tape as I was making it.  Starting it was not a problem but of course, it stretched and so now I had a bit of a tail at the end which kind of looked lousy.  Also, there were all these folds to deal with.  I played and played and played with it for a VERY long time.  I was really in a bind and still had the last side to finish the binding on. I had to accept that the corner was going to be less than perfect.  The bottom right photo is of this corner.  So, the question at this point was what am I going to do to make this last side go better and end up with a better looking corner? I felt it was going to take every ouch of sewing skill I posses to pull this one off. First. I made the last piece of binding a tad bit wider since part of the problem of dealing with these  folded binding strips was that I had made them too narrow.  Once I got the binding make, the question was how am I going to keep it the correct length.  .  Making it a bit wider was a VERY good idea.  I also then had the idea of basting the last piece of binding in place before I did the fancy decorative stitching.  That too was a good idea.  If I had basted the first end piece, it would have saved me tons of time.  The center picture is of that last piece of binding.  Machine basting did help keep it from stretching so that final corner (center photo) did indeed come out better.  I actually ended up hand sewing it it place.  Thank goodness I choose matching thread!!!  So, what I can say is that sometimes ones experiments turn out well, and sometimes one ends up  in a bit of a bind.  The other more important thing I learned is to not use this technic of binding each side separately again.  From now on, it's going to be mitered corners for me EVERY TIME.  I do like the look of the decorative stitching and will use that again but with mitered corners!