A tale of 4 runners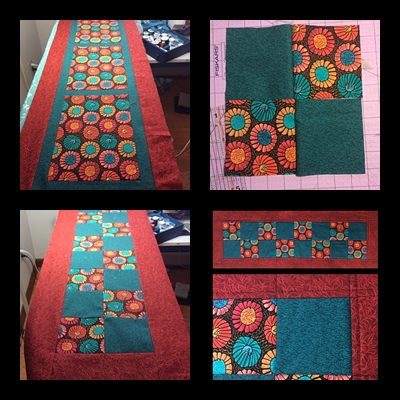 A few months back a local fabric store went out of business and we all know what that means....deep discounts!  I found this FABULOUS fabric called blooms.  One of my favorite color combinations is terra cotta and teal so a yard of it went home with me.  I also purchased a terra cotta to go along with, knowing I had a dark teal in my stash and as luck would have it, it matched perfectly.  I made an apron, which I sold wholesale, and a runner from these 3 fabrics.  I took the runner into the Arts Co-op and it sold the same day.  I NEED MORE OF THIS FABRIC.  On my way home from the Art Co-op I shopped at the fabric store.  Oh, oh....the store had sold out of it so I went digging through the fat quarters and found 2.   
The original design for the runner was a 30" long rectangle of the blooms fabric running down the middle of the runner surrounded by a teal inner border and the terra cotta as the outer border.  NOPE, that wasn't going to work with a fat quarter (18" X 21") so I came up with the design in the top left photo.  This runner I took to the Garlic and Arts Festival in September and it was one of the first things to sell the first day.  What I now have left of the blooms fabric is one fat quarter and part of another.  
Today I pulled out what I had left of these 3 fabrics with the intention of making my last ever blooms runner, which would be for sale.  I had done an internet search for this fabric to no avail.  I repeated the left hand top design with the 3 rectangular panels.  I still had a bit of this FABULOUS fabric left and enough of the terra cotta and teal to make another runner but not enough of the blooms to make the 3 panel design....what to do, what to do!  I sometimes go out on etsy and cruise through the patchwork runners for inspiration.  I saw this 4 patch design and could see...this was the ticket!  In fact, I had JUST ENOUGH of the blooms fabric left to make this 4 patch runner.  Since I had more of the terra cotta fabric then the teal, it was going to have to be the border and in hind sight, the teal worked out better in the 4 patch then the terra cotta world have AND I got yet another runner out of the blooms fabric.  



  I had no plan of getting a second table runner out of this fabric but I am a firm believer in using up what you have on hand and making the most out of it.  I am always very clear about when I am making items to sell or something for myself and supposedly today I was sewing for an item to sell but since I cannot find more of this fabric, I now have to decide which one I am keeping for myself.  Here's the link for the one that is for sale   https://www.newenglandfiberarts.com/products/prod_detail/568