Heart coiled coasters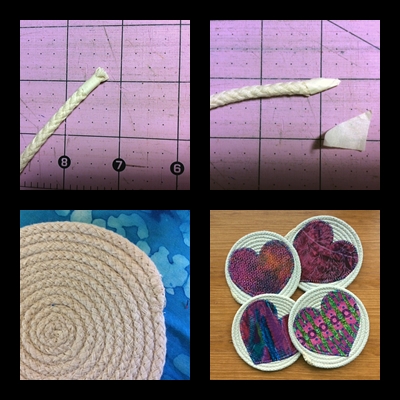 It is always fun to come up with something new to make.  I first started making coasters the same way I made the coiled fabric bowls, by wrapping the rope with strips of fabric and then sewing them in a concentrical shape.  I recently came up with the idea of making the coasters by just sewing the rope without the fabric and then appliqueing a colorful heart on it.  Who wouldn't like this...right?  
The important thing was to come up with a way to keep the rope from fraying where it was cut at the beginning and at the end.  Since the rope is the same color as masking tape I came up with the idea of taping it at the beginning and then trimming it so that the beginning was completely covered by the tape (fig. top left and the at the end, cutting the rope on an angle like I always do and the cutting a piece of masking take at a 90 degree angle and tightly wrapping it around the end fashioning a point (fig. top right).  One thing I realized when I did get to the end was that I needed to oversew it several times to insure that it was properly affixed, something I don't need to do when the rope is covered with fabric.  The fabric seals it off perfectly without a lot of oversewing.  Since I am using the same color thread as the rope, this oversewing is virtually invisible (fig. bottom left).  In fact, all the stitching is virtually invisible.  I have a lot of fun picking out the different heart fabrics and no two sets are alike.  I fuse the hearts onto the coasters and then applique them on using a blanket stitch.  The flip side of the coaster shows the outline of the heart , which is also neat.  
I was very excited when I came up with this idea because it eliminated the wrapping of the fabric part of coiled fabric process, hence making them quicker to make.  I find that the fusing, cutting out and appliqueing of the hearts takes about the same amount of time as the wrapping does so time wise, it has ended up being a wash.  Fortunately, these heart coasters have been very well received by my customers so I see many more of them in my future.  I even think they would make a nice wall grouping.  PLUS, you know me, I love it when I can use up scraps. The coasters are 4 1/2" across and all I need is a 3 1/2" scrap for the hearts so I have set aside all my small colorful scraps that would make nice hearts....YES!